Brief notes of the meeting of the ICTV Executive Committee (EC) and Study Group (SG) chairs held on 1-2 February 2016 at Hinxton Hall, Wellcome Trust Genome Campus, Cambridgeshire, UK
This meeting was the first ever to bring together the EC and SG chairs to discuss current issues in virus taxonomy.
This meeting provided a very appropriate start to the year in which ICTV celebrates its 50th anniversary. The excellent conference facilities provided by the Wellcome Trust Genome Campus enhanced the success of the meeting.
As explained by Andrew Davison (ICTV President) and Peter Simmonds (meeting organiser), the meeting was funded as part of a 5-year Wellcome Trust grant that is helping to develop ICTV resources, in particular by initiating an open-access online version of the ICTV Report. The meeting provided the opportunity to explain and discuss how the working of ICTV can be improved and how the Report can be developed. Some sessions addressed various problems that virus classification is facing, and added interest came from plenary sessions from a range of external speakers.
Many of the Powerpoint presentations are available for downloading from the website.
Monday 1 February 
In the introductory plenary lecture, Paul Kellam from the Wellcome Trust Sanger Centre illustrated how next-generation sequencing is transforming viral epidemiology and clinical studies.
This was followed by a series of short presentations from EC members outlining the history of ICTV taxonomy, the current procedures for maintaining and updating ICTV taxonomy, and the ways in which this is made available to the scientific community.
George Garrity from Michigan State University then gave a plenary lecture on bacterial classification that provided insights into the management of nomenclature and taxonomy in a different biological arena.
A further series of short presentations from EC members then focused on plans for developing the ICTV Report into an online open-access resource, using an example chapter. Most chapters would correspond to a family, and it was planned to publish citeable 2-page summaries as open access articles in an appropriate journal as the online chapters become available. The summaries would provide authors with a publication indexed in PubMed. It is hoped to have 30 chapters prepared by the end of 2016.
After lunch, there was a wide-ranging open session in which SG chairs were invited to raise issues related to the ICTV. The key points noted for action from this session and other discussions during the meeting are listed at the end of these notes.
The formal business of the day ended with a plenary lecture from Chris Stringer of the London Natural History Museum on hominid evolution. This raised issues of classification in palaeontology and proved to be of great general interest.
Tuesday 2 February 
The day began with a plenary lecture in which Guy Cochrane of the European Nucleotide Archive explained the challenge posed by vast quantities of NGS data that need to be captured and made available in appropriate ways to the scientific community.
The next session concentrated on sequence-related issues, including bioinformatics tools for sequence analysis in taxonomy, and served as a preview for dedicated meeting(s) on these topics to be held in the future. It included presentations from two EC members and two researchers employed through the grant. Overviews of multiple sequence alignments and phylogenetic trees were presented. SG chairs were encouraged to co-operate in providing standard sequence alignments appropriate for use in classifying viruses in their remit and in publishing criteria used to discriminate between species (and other taxa). Bioinformatics tools to assist users in examining the taxonomic implications of virus sequence data were presented, including one which has been extensively validated and used for taxonomy development in two virus families. Where appropriate, SGs could make use of linked wikipages to provide related information that is not appropriate to the main Report chapters and may change more frequently. These could include, for example, genotype and strain classifications below the species level or lists of viruses or sequences not yet formally classified. 
Two sessions were devoted to selected issues raised in advance by SG chairs. Key points arising from these discussions are included in the list at the end of these notes.
The plenary lecture after lunch was given by Curtis Suttle from the University of British Columbia, who demonstrated the vast diversity of viruses in the ocean. As well as being a fascinating story, this helped to highlight the challenge that virus taxonomy faces from the discovery of so many potential new taxa.
The final session attempted to look forward. Andrew Davison (President) summarised the current position of the ICTV about classifying viruses based on sequence data alone. This continues to be one of the major issues faced and will be the subject of a specialist meeting of invited experts and EC members in June 2016 in Boston. It is hoped that this meeting will result in a publication and recommendations to inform future ICTV policy. Andrew King (Proposals Secretary) recognised the importance of simplifying and accelerating the proposal process, especially for new species in well-established genera. Mike Adams (Business Secretary) discussed some of the advantages and disadvantages of adopting a latinized binomial nomenclature as used in other branches of biology and envisaged by the founders of ICTV 50 years ago. Elliot Lefkowitz (Data Secretary) outlined the provision of high quality taxonomic information and associated tools that the new online Report will be able to provide, together with links to other biological and sequence databases.
Key issues noted
Diversity within the ranks of the ICTV: SG chairs are overwhelmingly white males. Chairs are encouraged to ensure that membership of SGs reflects the current activity in virus discovery and classification (e.g. from Asia).
National Representatives: these have often had a purely symbolic role and the EC will discuss ways to involve them more actively.
Educating the scientific community: journal editors and others need to be made more aware of the importance of taxonomy and the role of the ICTV.
Taxonomic delay: ICTV will always be behind the curve, as sequences have to be deposited and given a provisional classification before a taxonomic decision can be made. Co-ordination between databases and direct contact between SG chairs and NCBI can improve the situation.
SGs have the option of using linked wikipages in the new online Report at least to provide listings (and perhaps other data) on nascent information.
Proposing new species needs to be made easier. The EC will be discussing this.
A 50th anniversary publication should be prepared incorporating information from the present meeting.
The EC should note the need for new SG chairs to be mentored (usually the responsibility of the SC chair and the outgoing SG chair).
Classifying viruses from metagenomic data is a major issue.
Demarcation of higher ranks in taxonomy remains extremely challenging and may generate contrasting opinions.
Incorporation of virus and virus-related host elements, e.g. EVEs, in a single classification scheme within virus taxonomy requires further discussion.
The provision of multiple sequence alignments (curated and kept up-to-date by SGs) and bioinformatics tools for taxonomy will be important and valuable features of the new online Report. In addition to clarifying the criteria used by SGs for taxonomic assignments, these will facilitate the analysis of new sequence data and the creation of proposals.
Immediate action
Further opinions about ICTV developments are always welcome!
Work is in progress to finalise the publication strategies for the Report chapter summaries.
The management committee will co-ordinate the writing and production of chapters for the online Report but will welcome volunteers! A template will be provided for the summaries.
Wikipages can already be provided for SGs and can be linked to the online Report as this facility develops.
A procedure will be developed and circulated to help SGs provide their sequence alignments in a suitable standard format.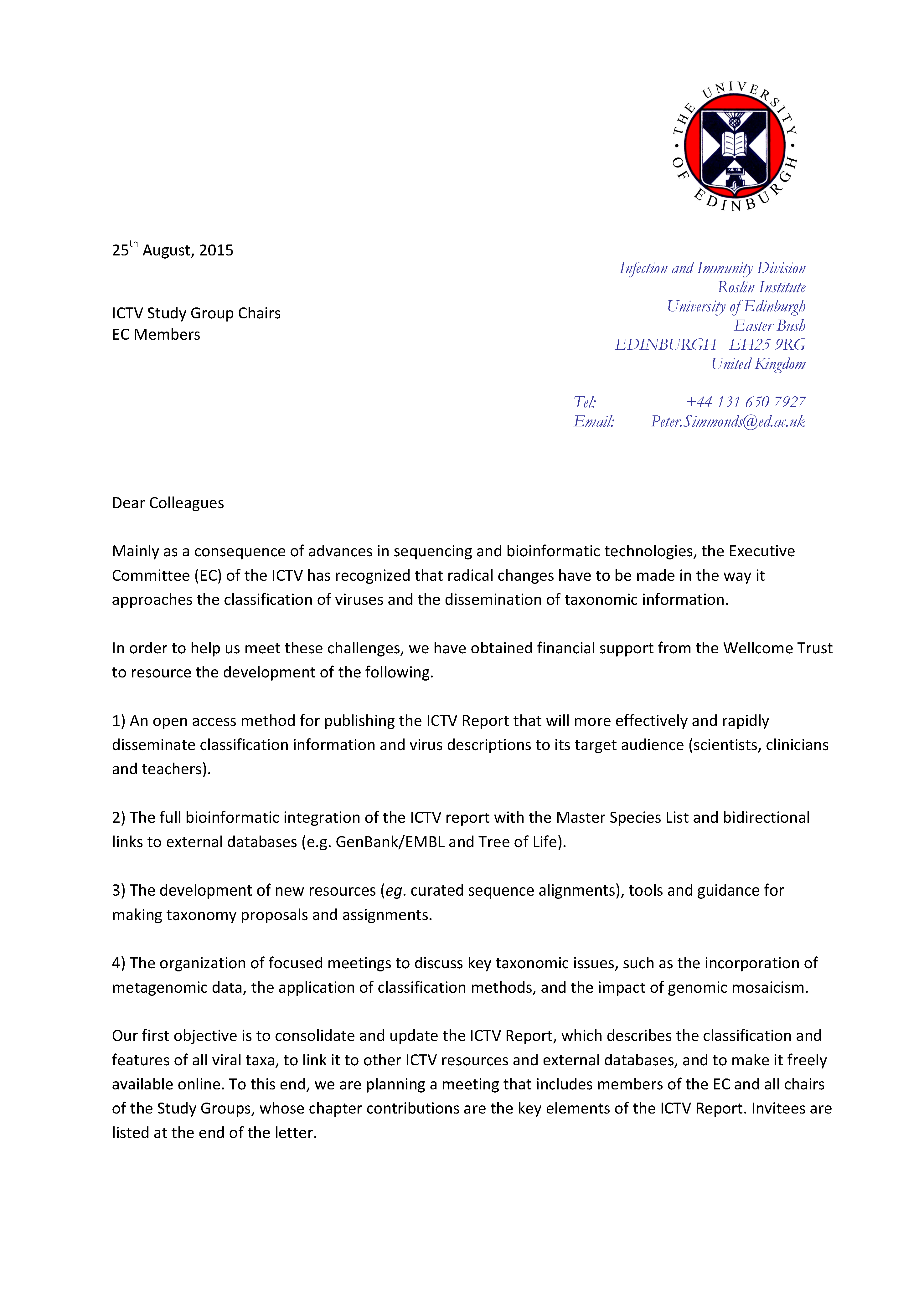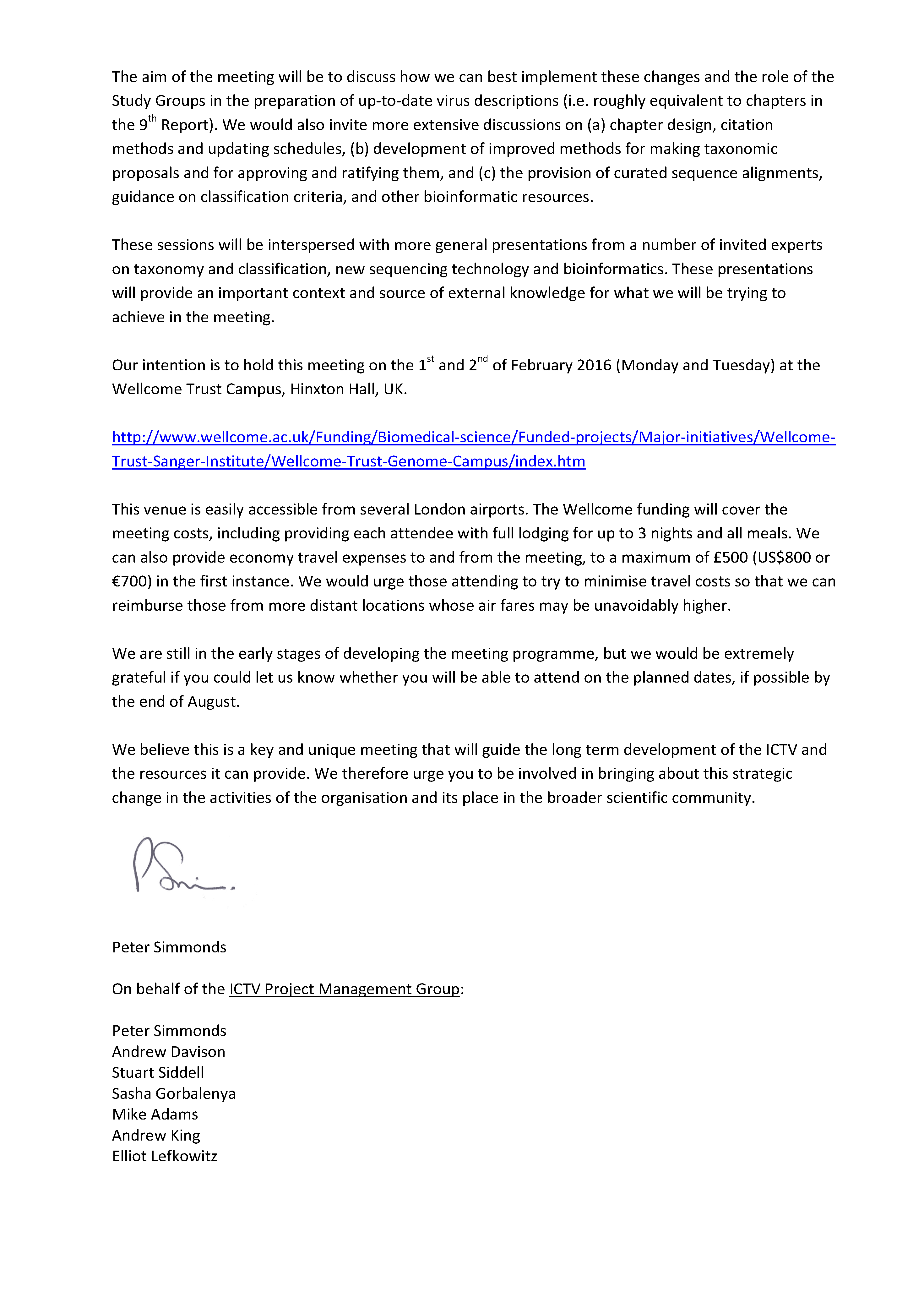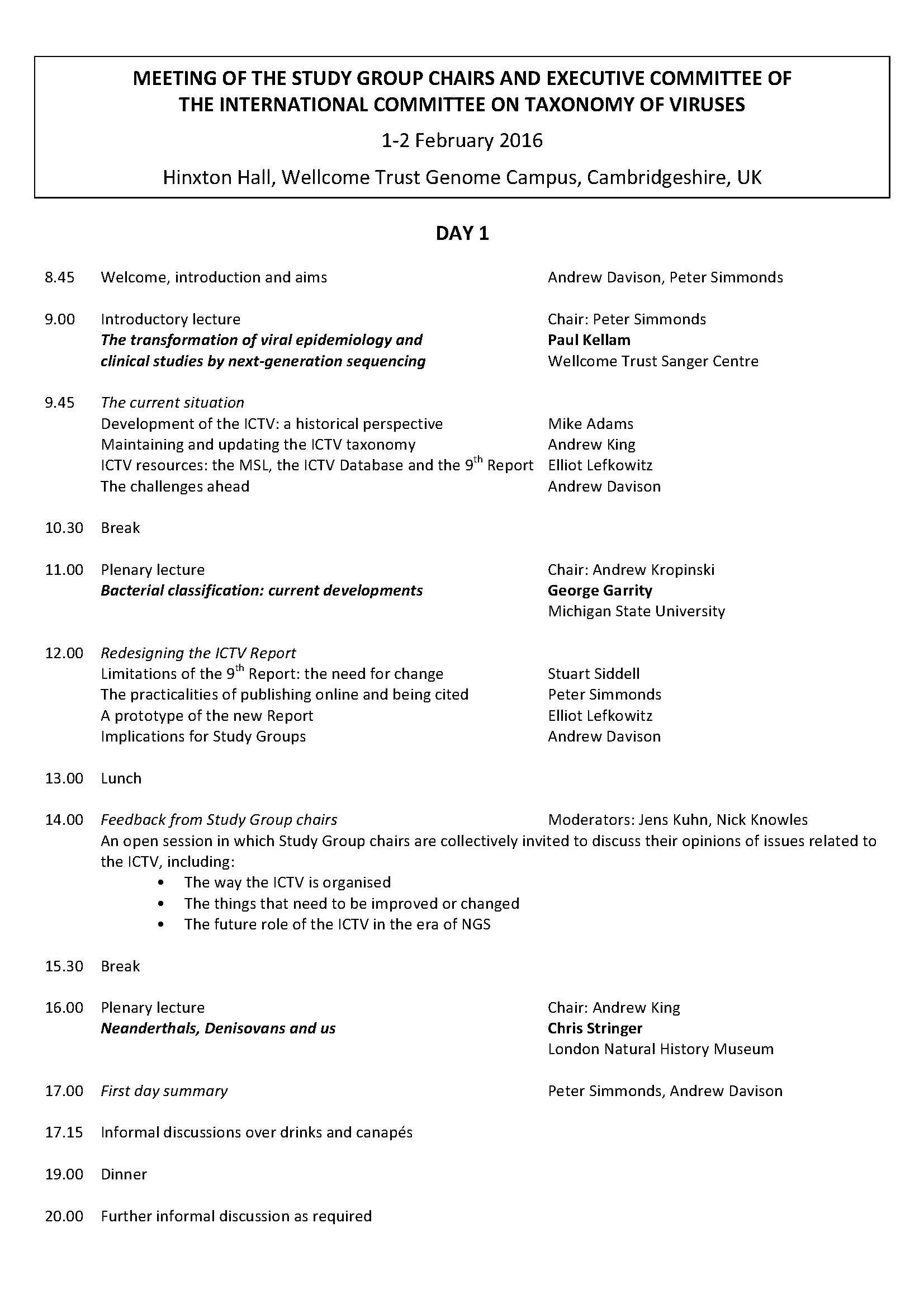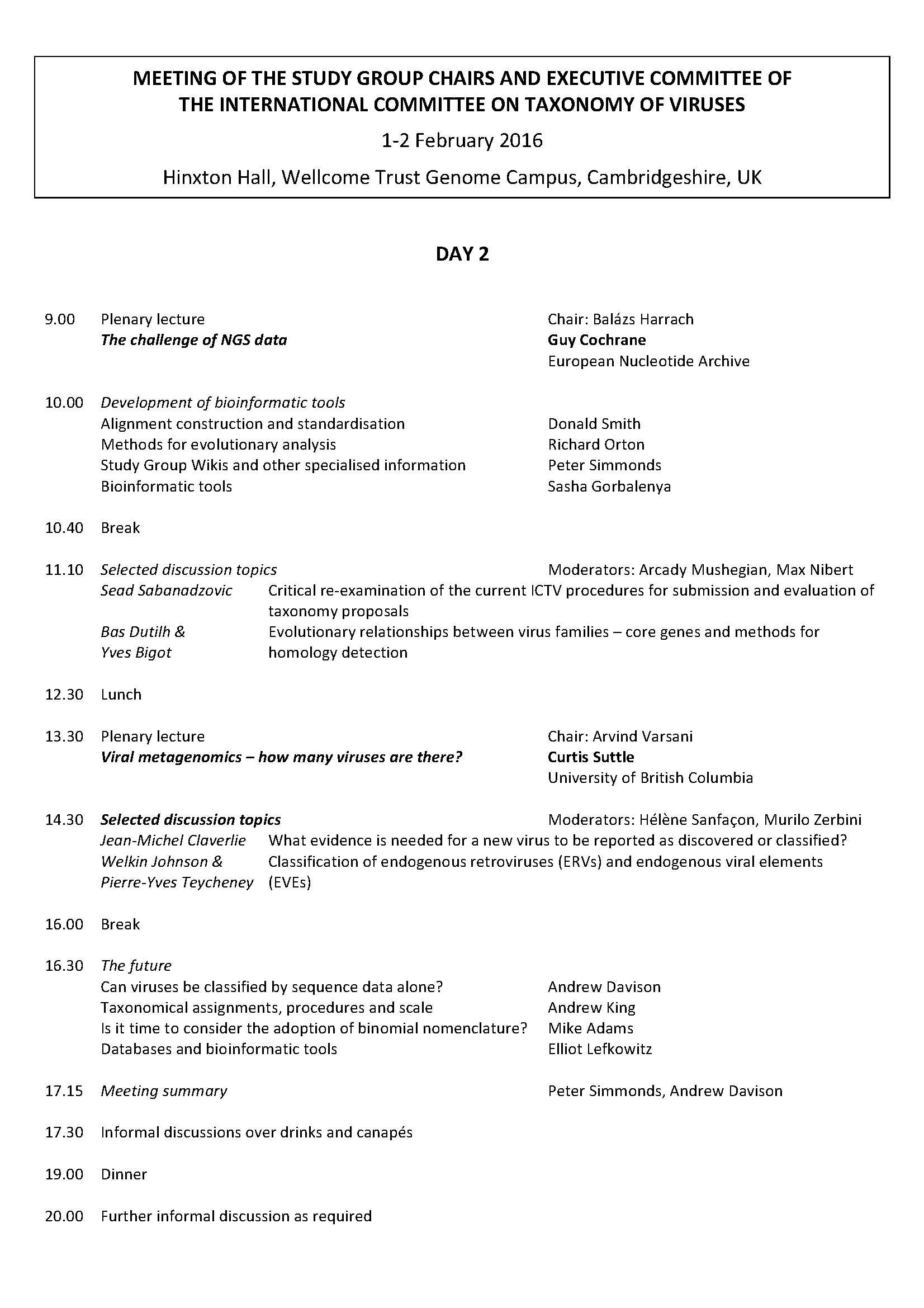 Presentations
Executive Committee Presentations
Paul Kellam: The transformation of viral epidemiology and clinical studies by next-generation sequencing
George Garrity: Bacterial taxonomy: Current developments
Guy Cochrane: The challenge of NGS data
Sead Sabanadzovic: ICTV Proposal Submission
Yves Bigot and Bas Dutilh: Evolutionary relationships between virus families - core genes and methods for homology detection
Jean-Michel Claverie: Challenges in classifying newly discovered viruses
Welkin Johnson and Pierre-Yves Teycheney: Classification of endogenous viral elements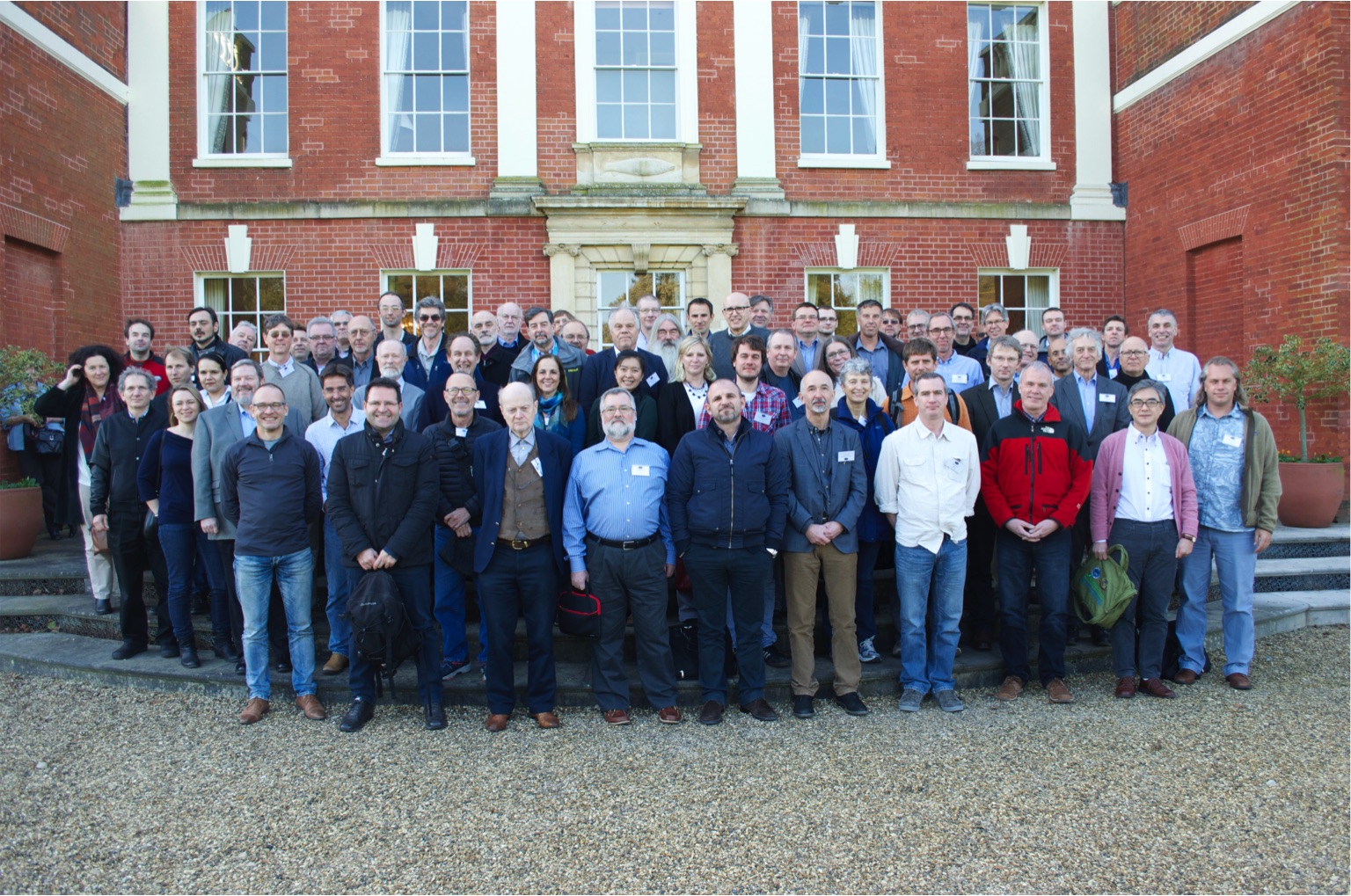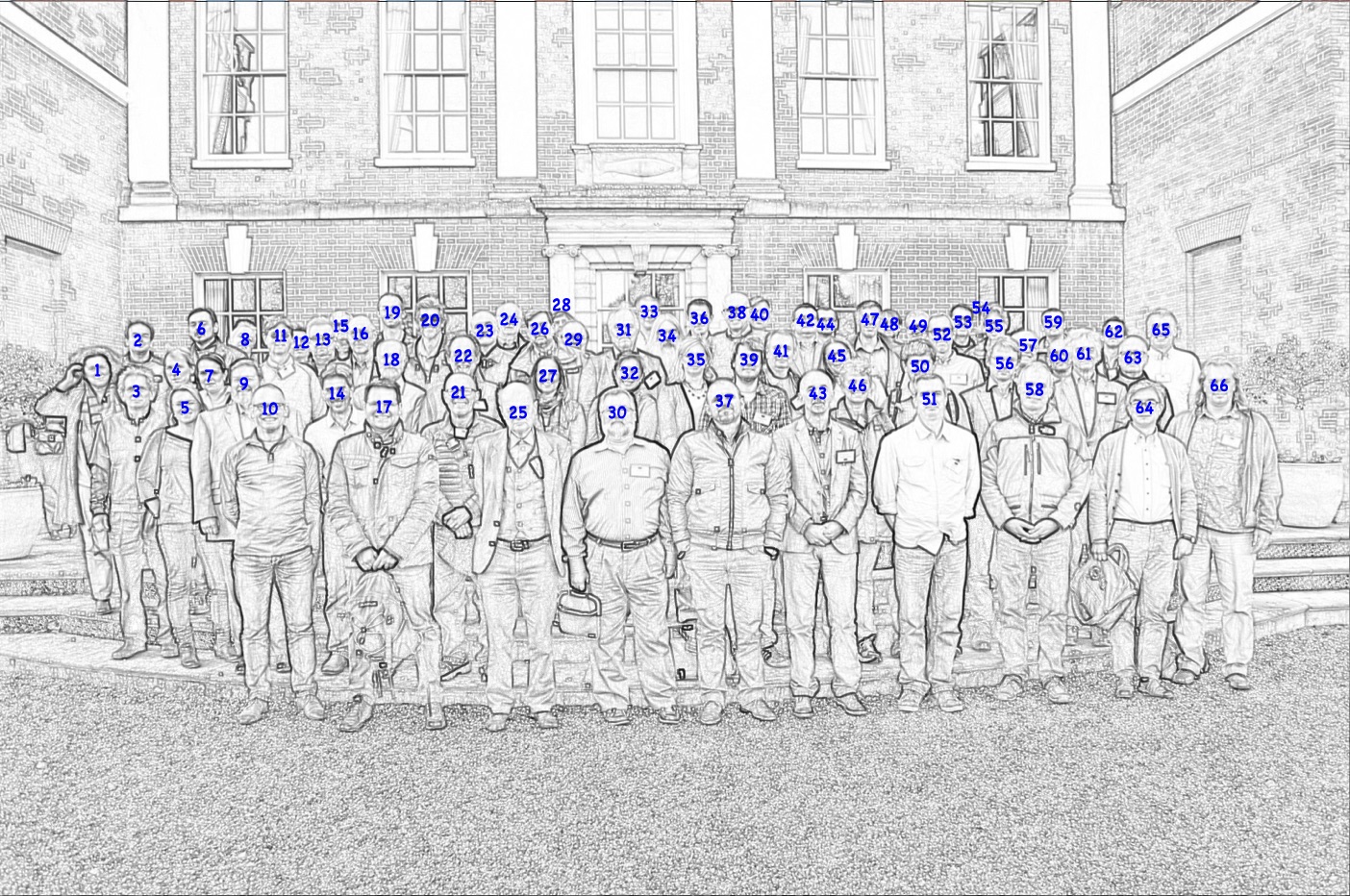 | | | |
| --- | --- | --- |
| Number in Picture | Name | Study Group |
| 1 | Rosemary Dorrington | Chair - Tetraviridae Study Group |
| 2 | Matthias G. Fischer | Chair - Mimiviridae Study Group |
| 3 | Robert D. Burk | Chair - Papillomaviridae Study Group |
| 4 | Jens Kuhn | Elected member |
| 5 | Eeva Vainio | Chair - Partitiviridae Study Group |
| 6 | Petar Knezevic | Chair - Inoviridae Study Group |
| 7 | Annika Gillis | Chair - Tectiviridae Study Group |
| 8 | Jeremy Thompson | Chair - Secoviridae Study Group |
| 9 | Michael A. Purdy | Chair - Hepeviridae Study Group |
| 10 | Richard Kormelink | Chair - Tospoviridae Study Group |
| 11 | Michael Strand | Chair - Polydnaviridae Study Group |
| 12 | Thomas Briese | Chair - Bunyaviridae Study Group |
| 13 | Finn K. Vogensen | Chair - Lactic Acid Bacteria (LAB) Bacteriophage Study Group |
| 14 | F. Murilo Zebrini | Elected Member |
| 15 | Yves Bigot | Member - Ascoviridae Study Group |
| 16 | David Prangishvili | Chair - Archaeal viruses Study Group |
| 17 | Francesco Di Serio | Chair - Viroids Study Group |
| 18 | Balázs Harrach | Chair - Animal DNA Viruses and Retroviruses Subcommittee |
| 19 | Bas Dutilh | Chair - Metagenomics Study Group |
| 20 | John Thomas | Chair - Nanoviridae Study Group |
| 21 | Rodrigo Valverde | Chair - Endornaviridae Study Group |
| 22 | Andrew Kropinsky | Elected Member |
| 23 | Arcady Mushegian | Elected member |
| 24 | Stuart Siddell | Chair - Animal dsRNA and ssRNA- Viruses Subcommittee |
| 25 | Lars Magnius | Chair - Hepadnaviridae & Hepatitis delta virus Study Group |
| 26 | George Garrity | Keynote speaker |
| 27 | Covadonga Alonso | Chair - Asfarviridae Study Group |
| 28 | Donald Smith | Edinburgh bioinformatics |
| 29 | Mike Adams | Business Secretary |
| 30 | Elliot Lefkowitz | Data Secretary |
| 31 | Jean-Michel Claverie | Chair – "Pandoraviridae" Study Group |
| 32 | Han-Ching Wang | Chair - Nimaviridae Study Group |
| 33 | Andrew Davison | ICTV President |
| 34 | Nick Knowles | Chair - Animal ssRNA+ Viruses Subcommittee |
| 35 | Stacey Shultz-Cherry | Chair - Astroviridae Study Group |
| 36 | Jelle Matthijnssens | Chair - Reoviridae Study Group |
| 37 | Toufic Elbeaino | Chair - Emaravirus Study Group |
| 38 | Roland Zell | Chair - Picornaviridae Study Group |
| 39 | Dennis Rubbenstroth | Chair - Bornaviridae Study Group |
| 40 | Sead Sabanadzovic | Elected member |
| 41 | Robert Harrison | Elected member |
| 42 | James Stewart | Chair - Herpesvirales Study Group |
| 43 | Sasha Gorbalenya | Vice-President |
| 44 | Mart Krupovic | Elected member |
| 45 | Mária Benkö | Chair - Adenoviridae Study Group |
| 46 | Hélène Sanfaçon | Chair - Plant Viruses Subcommittee |
| 47 | Stephen Wylie | Chair - Potyviridae Study Group |
| 48 | Max Nibert | Chair - Fungal and Protist Viruses Subcommittee |
| 49 | Massimo Turina | Chair - Ourmiavirus Study Group |
| 50 | Jan Kreuze | Chair - Alpha-, Beta-, Gammaflexiviridae Study Group |
| 51 | Andrew Lang | Chair - Marnaviridae Study Group |
| 52 | W. Allen Miller | Chair - Luteoviridae Study Group |
| 53 | Welkin Johnson | Chair - Retroviridae Study Group |
| 54 | Arvind Varsani | Elected member |
| 55 | Bradley Hillman | Chair - Narnaviridae Study Group |
| 56 | John Ziebuhr | Chair - Coronaviridae |
| 57 | V. Gregory Cinchar | Chair - Iridoviridae Study Group |
| 58 | Jan Vinjé | Chair - Caliciviridae Study Group |
| 59 | Richard Orton | Glasgow bioinformatics |
| 60 | Pierre-Yves Teycheney | Chair - Caulimoviridae Study Group |
| 61 | Bert Rima | Chair – Paramyxoviridae Study Group |
| 62 | Philippe Colson | Chair - Marseilleviridae Study Group |
| 63 | Bernhard Ehlers | Chair - Polyomaviridae Study Group |
| 64 | Nobuhiro Suzuki | Chair - Partitiviridae Study Group |
| 65 | Peter Simmonds | Elected member |
| 66 | Micheal Melzer | Chair - Cilevirus Study Group |
Name
Study Group
Meeting attendees not in photo
Margo A. Brinton
Chair – Arteriviridae Study Group
Bernard Delmas
Chair – Birnaviridae & Picobirnaviridae Study Groups
Andrew King
Proposals Secretary
Juan Carlos de la Torre
Chair – Arenaviridae Study Group
Peter Walker
Chair – Rhabdoviridae Study Group
Johannes Wittmann
Chair – N4-like phages Study Group
 
 
Invited speakers not in photo
Paul Kellam
Keynote speaker
Chris Stringer
Keynote speaker
Guy Cochrane
Keynote speaker
Curtis Suttle
Keynote speaker