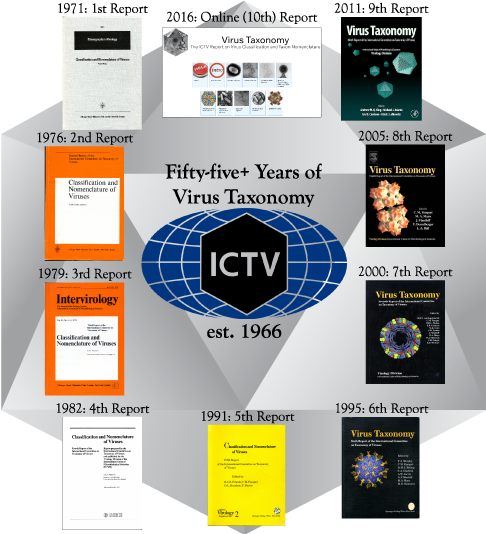 The ICTV Report is a freely available, online resource, that updates and replaces previous ICTV Reports that had been available as printed books. The starting point for the current Report (also previously referred to as the Online, 10th Report) is the ICTV 9th Report, published in 2011. ICTV Study Groups, consisting of leading experts in the field, are updating the information from the chapters of the 9th Report to produce current Report chapters. In addition, chapters for new viral taxa created since the 9th Report are also being produced. Chapters will be updated on a regular basis to describe recent taxonomic changes resulting from the approval and ratification of new taxonomic proposals. 
Summaries of the Online Report chapters are published in the Journal of General Virology in the section, ICTV Virus Taxonomy Profiles. These profiles provide concise review-type articles of individual chapters from the online Report. Written by ICTV Study Groups, these reviews provide overviews of the classification, structure and properties of individual virus orders, families and genera. These summaries are linked to the full Online Report chapters on this website and are indexed in PubMed. An Editorial, written by past ICTV President Dr Andrew Davison, is also available.
Availability of Past Reports
Past Virus Taxonomy Reports of the ICTV are still generally available from the publisher of a particular Report. The table below details the availability of each release as  hard copy and/or as a digital copy. Please contact the respective publisher for more information.